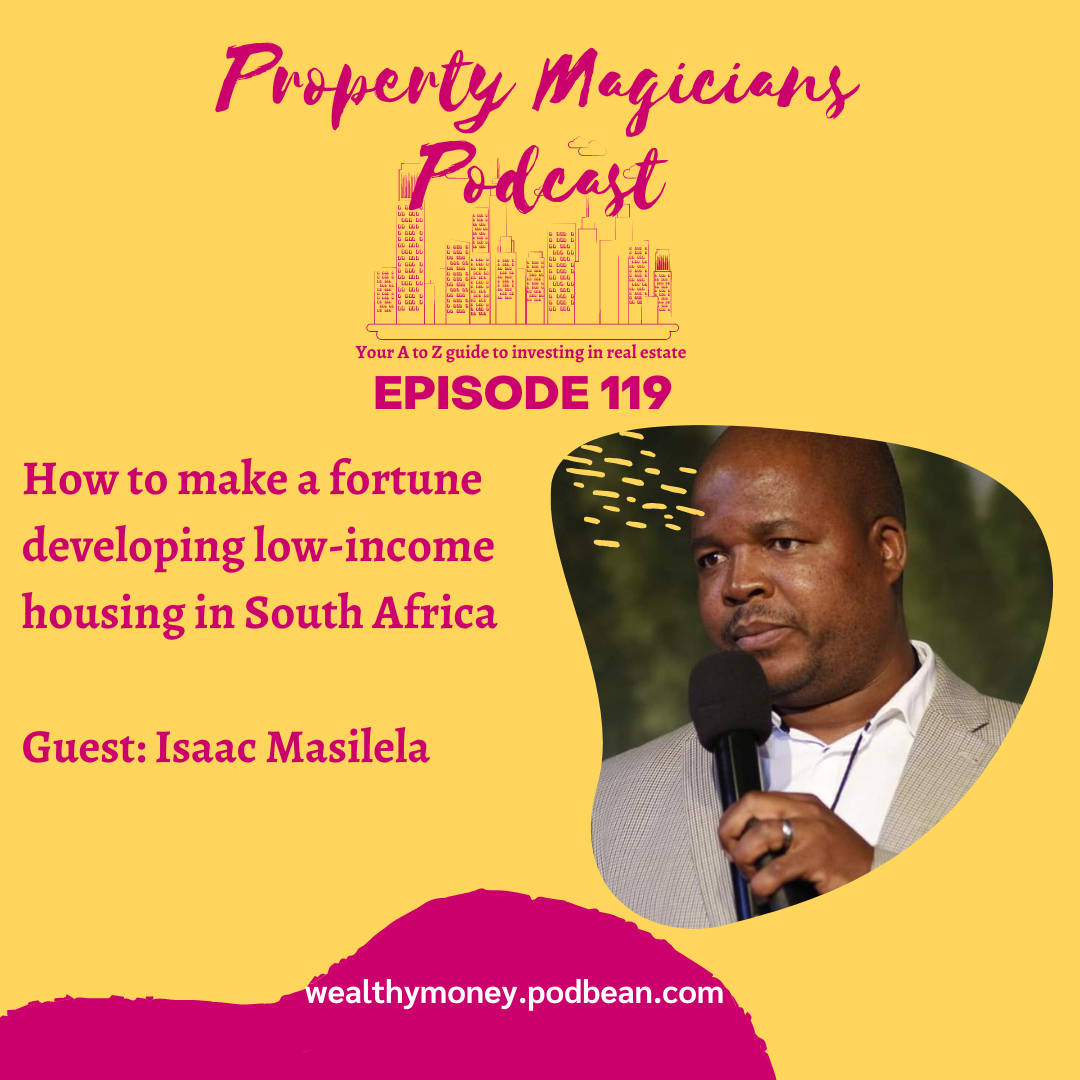 In this week's episode, we talk to Isaac Masilela, the founder of Mziwethu. He was born on a farm in Mpumalanga, where his father was rendering his services for a place to stay. Watching his parents build houses with mud and farming to sell food, shaped him to be the entrepreneur he is today.
When he went to Secondary School, he went to live with his uncle who had structured houses; he decided then that he would build his parents a house. He became interested in housing and building houses.
In 1999, he had an opportunity to rent a 3 bedroom apartment to rent with friends, because he couldn't afford to pay for the house and his new car. This taught him that he could collaborate with people. 
He bought his house in 2000, a few years after working for 3 years and took an R120,000 bond and invited his friends to stay with him and charged them rent so he ended up staying for free.
This sparked his interest in property and he decided to buy another property, which he rented out to someone. By 2004 he had 6 properties in his own name.
He then decided to buy a half complete house. He completed it and flipped it. He had no experience in building a house and had to register as a builder. He made a profit of about R300,000 on that house in 2 months. This motivated him to keep going in building houses and selling them.
In 2005, some guys approached him to start building some properties together and do property development and they ended up building 20 upmarket houses in Witbank. By the time they completed the development, the recession hit in 2008, so they ended up with R30 million in properties.
Because it was a recession, people were not qualifying for home loans, which encouraged him to pivot to lower-income housing and social housing, because people were qualifying for lower-priced properties.
His company, Mziwethu, focuses on the Gap Market, where people get grants from the government and housing subsidies from their employers. Fast forward to now where his company builds hundreds of houses per annum for the low-income market.
This is how Mziwethu ended up partnering with Sakhisizwe and Property Magicians Stokvel, which have invested a total of R3 million into their project in Secunda so far; we are now discussing how to work with Isaac to help his company generate R1 billion in revenue per month.
This is another incredible episode.
Tune in!